Broiler Cage Raise system-auto. Bird conveying
Features and usage:
The multi-tier broiler cage system make the broiler farm turns to factory, and large scale.
It is have higher raising density compare with broiler floor raising system, which is raise more broiler with the same size of land, also, it is good for center cleaning and disinfection for chicken farm.
The house with automatic environmental control system which takes good wind circulation for whole house.
Each tier of broiler cage with manual cleaning belt, which broiler will not touch manual, and cleaning timely which reduce the Ammonia and hydrogen sulfide gas in house, and reducing the sickness for chicken.
Broiler cage system give us more weight averagely broiler.
The chicken feeding line in chicken farm equipment, is used in chicken breeder house, which automatically supply feed to birds.
The fertilizer eggs sent it to hatchery for hatching to get chicks for broiler or layer...
The chicken manure from broiler house, layer house,breeder house, can be sent it to manure fertilizer plant to make it into fertilizer.
The ventilation fans in chicken farm can be use different type, like box fan, centrifuge fan, push-pull fan, batterfly cone fans, the air volume and size , and motor power are difference , according to Chicken House status, different temperature, and weather conditions, different type of fans can be used. The fans working result in chicken house is direct on the chicken growing. If for broilers, the time life of it different according to clients locally market request, some broiler even only raise about 36 days will sent it to poultry processing plant, poultry processing line . The dead chicken can be fired by incinerator at farm direct or sent it to rendering plant , rendering equipment , becomes chicken meat meal by batch cooker cooking.
The breeder house is for the purpose of getting fertilized eggs for hatchery, after hatching get chicks for broiler or layer house
Layout of broiler cage :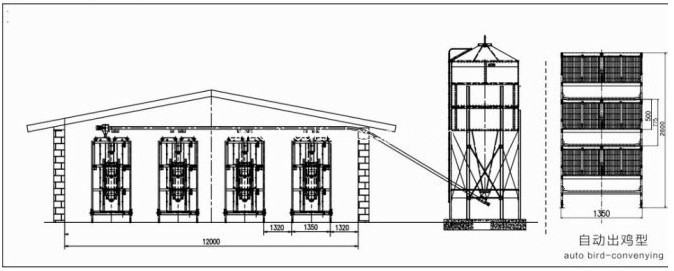 3D of One Cage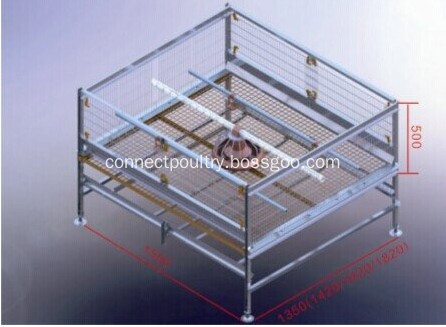 Cage and cage frame all made of hot dip galvanized tell, which is durable in life. Each cage length is 1500mm, height is 500mm, width have multi size optional, such as 1350mm, 1420mm, 620mm, 1820mm.
The farm of cage is made of galvanized panel and forming the specified shape, cage is welding first and then get hot dip galvanized which insure the long life time. C shape vertical pillar is made of hot galvanized panel, which is easy for cleaning.
Each cage with one feeding line which have one feeding pan, and two drinking lines which is with 4 or 6 nipple drinkers. The reasonable feeding and drinking device distribution ensure broiler have enough feed and water. The height of feeding and drinking lines can be adjusted according to the size of chicken.
The design and material of bottom wire mesh is very important for broiler quality, which is strong, flexible, hygiene reduce the hematoncus coccidiosis of broiler breast,coccidiosis, and death. Our bottom cage mesh with three galvanized pipe to raise the hardness. The wire mesh with the reasonable square whole to make sure the manure drop off to belt.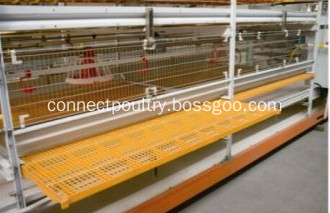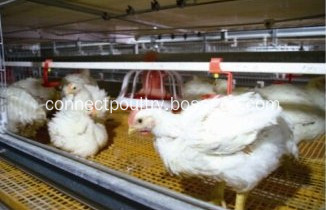 The bottom mesh is easy drawer out, which is easy for cleaning and dischagrging broiler.
There are two way of feeding, one is auger system, the other is bridge crane system.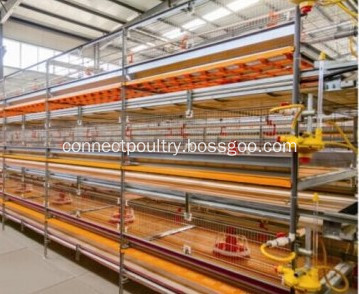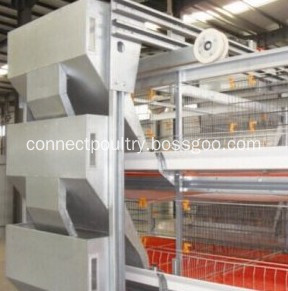 Feed auger conveying system is that the feed is transport with auger to each feed hopper of each line of cage, and then transport to each feed pan in each cage, there is feed sensor to keep feeding averagely.
The height of feeding pan should adjusted according to the size of chicken.
The bridge crane feeding is also first with the auger transport the feed to feed hopper of crane, and bridge crane averagely feeding the feed to feed trough, the amount of feed is adjustable.